WELCOME!
First Responders Store is a SUPPORT MINISTRY for First Responders and Chaplains. It is a Print On Demand(POD) or Create On Demand(COD) ministry. There are also products for the general public. Since this is a POD business, there is no inventory which means products are created when you order them. Products can be personally customized at no additional charge on certain products.
If you want something on an item customized other than what you see, EMAIL ME FIRST!! Whatever you order is what you get. Contact me before ordering. There are also no returns or refunds unless it's a manufacturer's fault.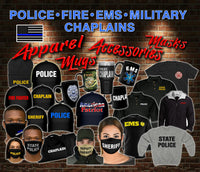 CUSTOM DESIGNED ITEMS
I can put your badge, patch, logo, occupation or your name on many products. Display your department at work or home. Some of the apparel can be embroidered also! If you want a special design, contact me before your place any order. There are also no returns or refunds unless it's a manufacturer's fault.
Email me at:
firstrespondersstore@gmail.com
DANBURY POLICE DEPARTMENT
FELLOWSHIP OF CHRISTIAN PEACE OFFICERS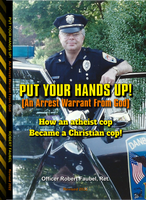 PUT YOUR HANDS UP! AN ARREST WARRANT FROM GOD
This is my first book about how I went from an Atheist cop to a Christian cop. I reflect on my life telling of the events that affected me and my decisions. We think we have an idea of what we want in life until something or someone comes into our lives and radically changes things. Please click on the link that will bring you to the Amazon page to order. Shipping is about 3-5 business days.
Order Chaplain Bob's Book